While decorating the house for the year 2022, special attention should be paid to the design of the areas where time is spent frequently. Dining rooms are one of the most frequented areas. It is possible to chat or host guests in areas not used for eating only. Therefore dining room decoration ıt is important. While the dining room is being decorated, you can provide a longer-lasting use by taking advantage of the sets that are in this year's trends. The trendy dining room sets of 2022 generally have a simple atmosphere and allow you to eat peacefully. You can place in your dining rooms for the year 2022 and beyond. dining room sets some models are described below.
Eva Dining Room Set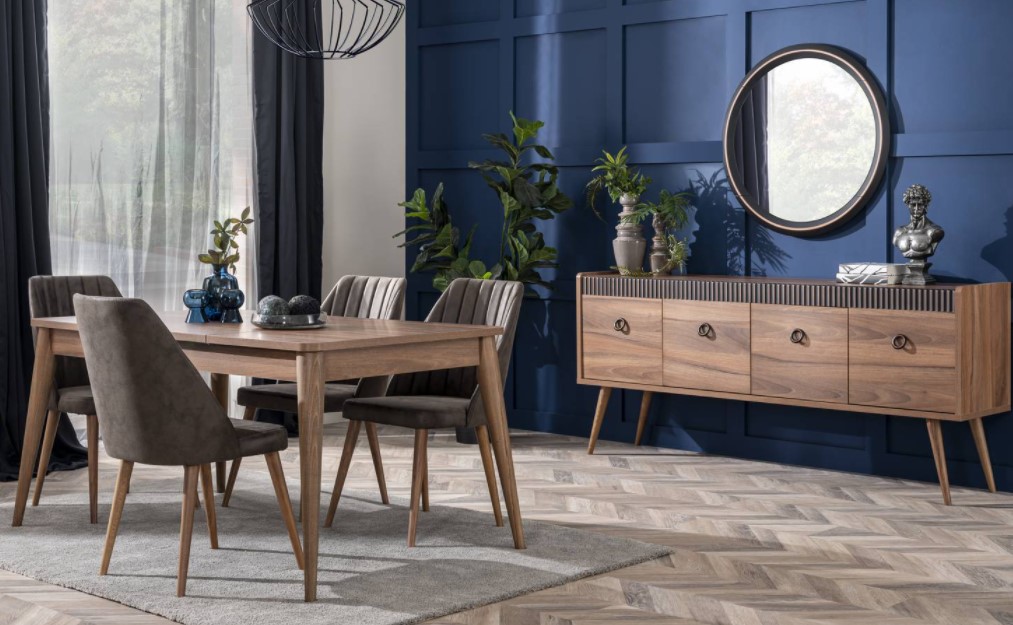 Eva Dining Room Set ıt is the kind that can suit not only a home, but every home. These pieces, which can be used in both large dining rooms and narrow dining rooms, invite you to a peaceful dining experience. Gray and wood tones prevail in the team. For this reason, a color transition has occurred that will not tire your eyes. It is known that the chairs in the Eva dining room are obtained from first quality dry beech trees. All of the parts in the set are covered with first-class chipboard. The top of the chipboard is supported with walnut veneer. The parts in the product are painted in beech wood color.
Eva Dining Room Set Content
Eva Dining Room Set content when it comes to the table, the first thing that comes to mind is the dining table. The table with 160*90 dimensions can create 40 cm additional space to be opened if desired. The product includes 6 chairs, a mirror, a TV stand, a center table, an upper module and a console.
Perla Dining Room Set
Perla Dining Room Set while being prepared, the aim is to bring together different geometric forms and achieve an original stance. This model, which will make you feel energetic with its fluid color transitions and dynamic design, consists of cream tones. The chairs in the collection are made of beech wood to provide a natural look. Beech wood is not directly present on the chairs, but is surrounded by metallic pearls. Chipboard, which is a quality covering material, is included in all of the pieces in the set. The legs of the pieces are made of hard plastic and painted in a natural color.
Perla Dining Room Set Parts
Perla Dining Room Set Parts the most striking product among them is the console mirror, which has a different design. In addition to this mirror, the set includes a 180*80 table, 6 chairs, a console with 4 identical covers, a TV stand and a center table.
Hitit Dining Room Set
Hitit Dining Room Set you can witness the meeting of nature with comfort. Simple color transitions are dominant in the set and there are no exaggerated pieces. The chairs in the set are made of dried beech, similar to the other sets. Both the chairs and the table are covered with chipboard. Walnut veneer was also used to make the chipboard more durable and long-lasting. All of the feet are made of beech wood.
Hitit Yemek Odası Takımı İçeriği
Hitit Dining Room Set Content when it comes to this, the center table in this content can be mentioned. The center table, which is very useful, has a simple design. In addition to the center table, the collection includes a console mirror, a TV stand, a TV stand top module, a console, and 6 chairs. There is also a 160*90 table in the set.
Hedef Dining Room Set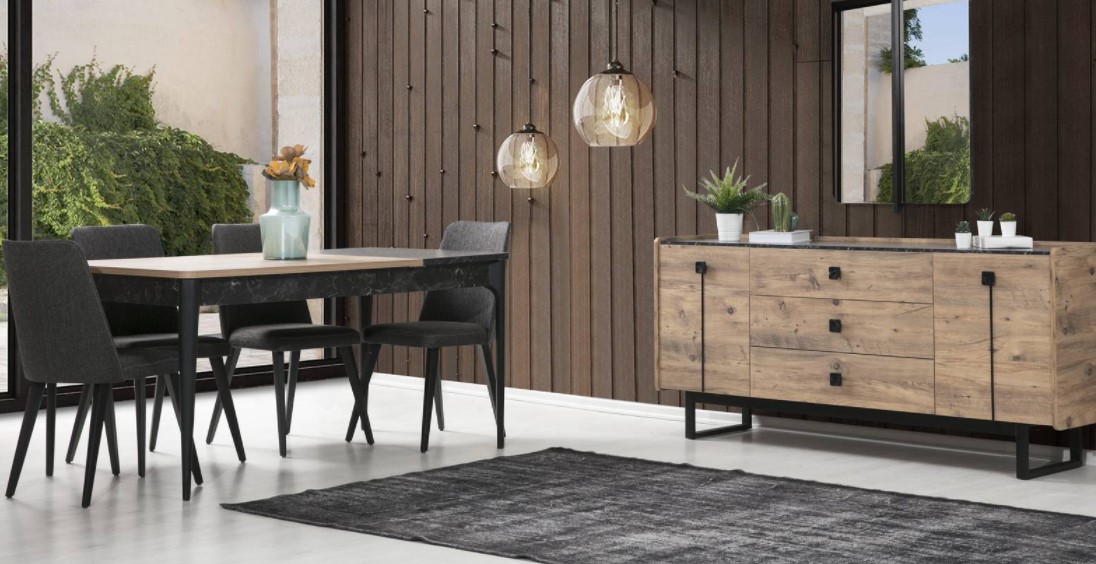 Hedef Dining Room Set ıt has designs that broaden your horizons. Each piece covered with Atlantic pine is very durable and long-lasting. The legs in the pieces have a metal design and these legs appear to be covered with matte black.
Hedef Dining Room Set Details
Hedef Dining Room details when examined, it is seen that there are 6 chairs in the model. There is also a 159x90 extendable dining table, a console with 3 drawers, a coffee table, a wall unit and a console mirror. Each product in the set is made of beech wood and attracts attention with its natural appearance. The pieces are covered with beech wood chipboard. In this way, the resistance rate is further increased.