While decorating the living room in 2022, the only point to be considered is not to buy the right sofa set. By completing the right sofa set with the right accessories, TV unit model should be supported with Below are a few examples of TV units for this. You can have a beautiful living room decoration by combining these TV units with your other items.
Perla Wall Unıt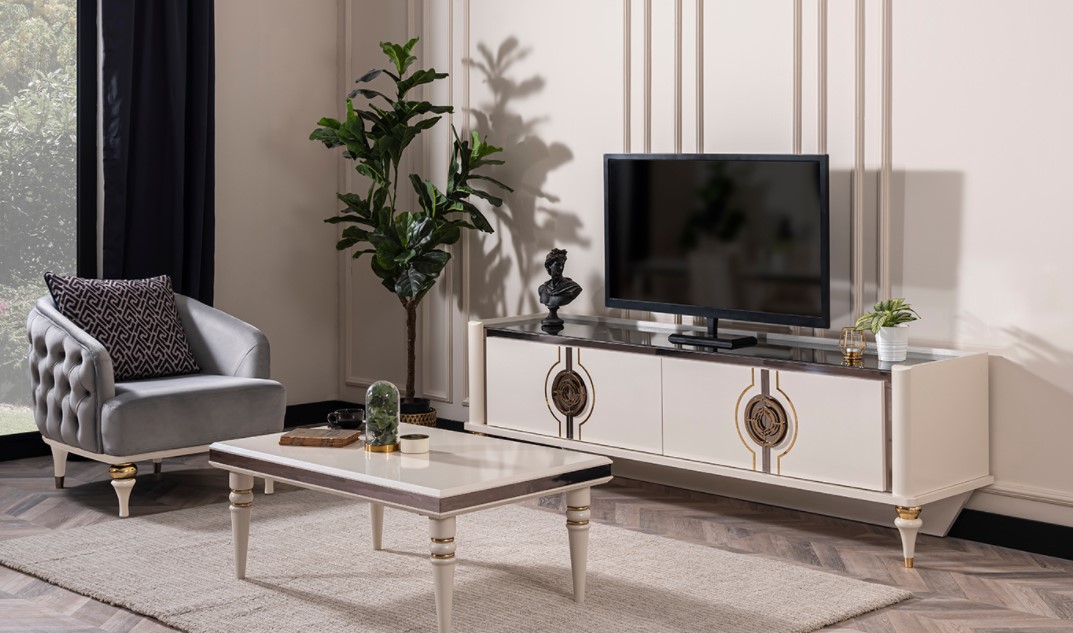 Perla Wall Unıt besides a perfect design, it also has useful details. This unit, which will create a good combination for your living room when used with the Perla Sitting Group, consists of one piece. There is no upper nodule in the product and a simple design is dominant. In order to exceed the simplicity of the design, two front feet and a long rear foot are used in the product. On the front legs, there are some decorations with gold color, which has become the trends of 2022. The product has two compartments. These compartments are supported by two covers and offer easy use.
Geometric Shapes in Perla TV Unit
Perla TV Unit ıt is decorated using different geometric patterns to add color to your living rooms. The model has both the assertive entrance of the rectangle and the lightening feature of the round. The circumference of the design, which is used in the form of a half moon on the covers, is decorated with a gold stripe.
Eva Wall Unit
Dominated by Scandinavian designs Eva Wall Unit welcomes you with a simple design. A new meaning has been captured in the wall unit by reinforcing it with modern decoration lines. Beech wood is used in the model and it has a natural appearance. This natural look helps you to have a more peaceful conversation in your living rooms. 5 legs are used in the model, two on the right, two on the left and one in the middle to provide support.
Parts in Eva TV Unit
Eva TV Unit ıt does not consist of a single piece. This product is dominated by two basic parts, both the lower module and the upper module. You can use the upper sections of the product for the purpose of a library or for display purposes. You can use your photos or small decorative items for display.
Hitit Wall Unit
Hitit Wall Unit ıt has created an original design for you by combining classic style with modern style. The pastel tone transitions in the product allow your living room or halls to have a more romantic look. This product, which positively affects the areas where it is used, is covered with chipboard outside and beech wood is used inside. The wooden appearance in the product helps it to easily adapt to different style seating groups.
Design in the Hitit TV Unit
Hittite TV Unit ıt consists of both a sub-module and an upper-module. While the lower module can be used more as a storage area, the upper module consists of open areas. You can display your books in the upper module with three coverless compartments. In addition to your books, you can put small flower pots in these compartments or decorate them with trinkets. In the 3 drawers in the lower module, you can place all kinds of items that you do not want to appear in your living room.
Hedef Wall Unit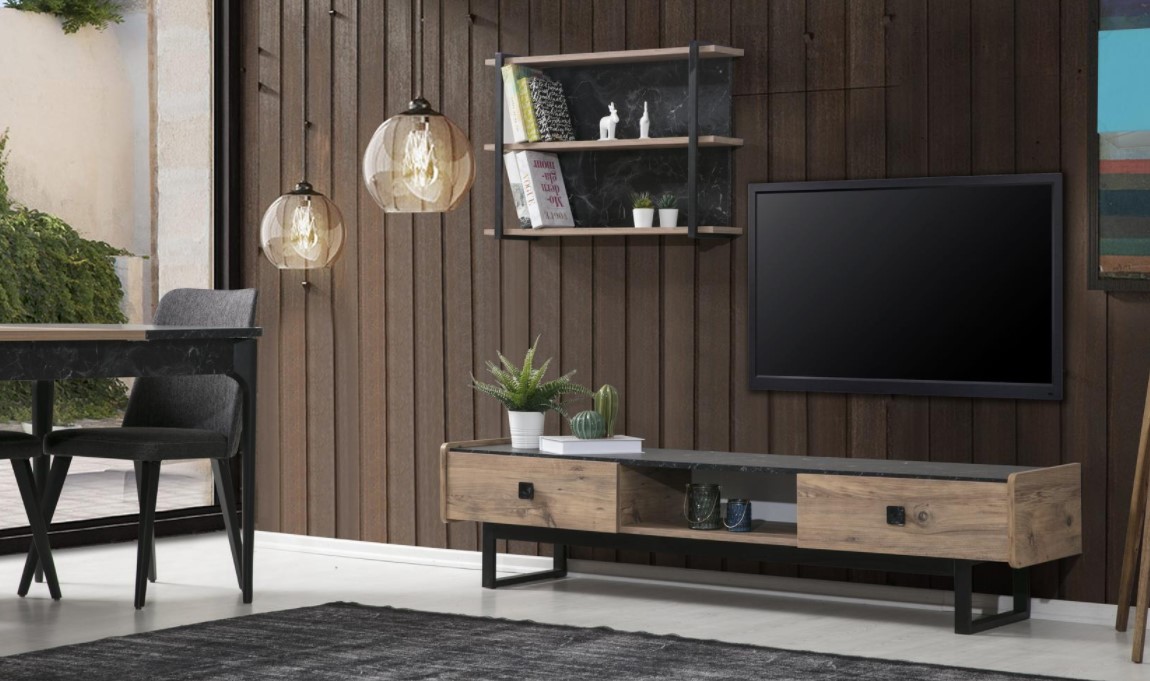 It reveals a minimal air with its regular transitions. Hedef Wall Unit ıt benefits from the effect of ironic forms. The foot in the product is covered with metal and painted with matte black. The feet are two and have a long form. There are a total of three compartments in the lower module, two of which are closed and one is open. Drawers are used in closed areas, and you can put materials that you do not want to be seen in the drawers. The handle details of the drawers are designed as square.
Hedef TV Unit Details
Integrating with a unique personality Hedef TV Unit ıt consists of one lower and one upper module for you. The upper module contains two shelves. These shelves are wide and many products can be placed, from books to trinkets. The product can be adjusted according to different size televisions and offers you an original look exactly as you want it. Since beech wood is included in the product, a natural appearance is dominant. For this reason, you can choose this model by supporting it with different seating groups.