What Should Be Considered When Choosing a Bedroom Set?
When choosing a bedroom set, attention should be paid to what type of decoration is desired to be reflected first, and then what is the desired comfort level to be achieved with bedroom set pieces. It is necessary to use different pieces for all modern, rustic, classical, Scandinavian, industrial and country decoration types. In this context, selection should be made by considering the design details in bedroom sets.
On the other hand, people who want to bring comfort to the forefront and have large items find solutions to all their needs by choosing bedroom sets that combine the box-spring model with modern design details. These models, which both offer additional storage space and reflect elegance, are indispensable for modern decoration.
Lovers of Movement in Decoration How to Choose a Bedroom?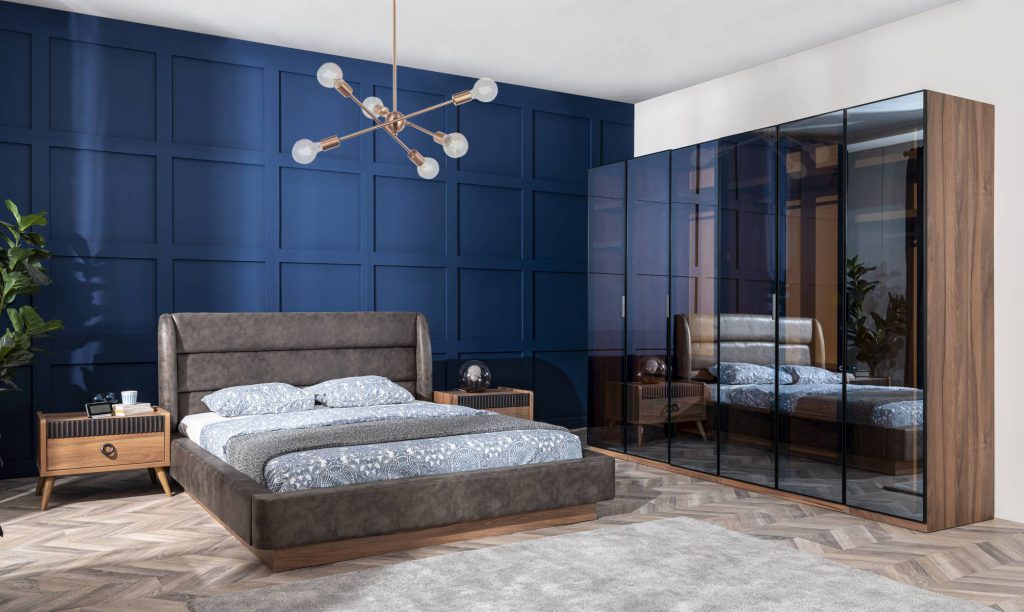 Those who like to use moving and remarkable pieces in decoration should of course prefer bedroom sets with quilted headboards. Because the quilted model both adds a stylish movement to the team and puts hand workmanship in the foreground. At the same time, square or oval shaped gold and silver-tone staples used to create a quilted model offer a balanced luster in decoration.
While a bed base or classic bed can be preferred in these sets, wardrobe models with sliding doors should be included in the decoration as indispensable parts. The choice of a set consisting of a sliding wooden wardrobe, quilted detailed bed headboard, base bed, wooden 2-piece nightstand provides the ideal view for a dynamic and sport-stylish bedroom.
Bedside tables can be preferred with metal handles or simply. In order to take the striking appearance one step forward, the models of the bedroom sets with the same pieces, with black mirrored wardrobe, will reflect the ideal appearance.
What should be considered when choosing a wooden designed bedroom?
Those who can never stop using wood in decoration should prefer sets with bedside tables, wardrobes and bed legs designed with wood. When choosing wooden sets, attention should be paid to include other details in harmony with the wood in order to ensure the balance in decoration.
For example, bedroom sets designed with the use of only dark wood can cause a heavy air formation throughout the room. In order to support a brighter and more modern decoration, a bed type with a fabric covering of the bed body and a wooden panel part providing support to the floor should be preferred. In sets with this bed model, wooden cabinets should be mirrored and sliding doors.
The mirrored cabinets in the set provide the depth and wide view in the room, while the daylight that fills the room will be dispersed in every area. In this context, the fresh and natural color, texture and air created by the wood can be felt more clearly in the bedroom. Bedside tables, on the other hand, are preferred with drawers in terms of providing storage space and an advantage is obtained in use.
What Kind of Bedroom Should Rustic and Industrial Style Lovers Choose?
Industrial style, one of the most striking decoration types of recent times, combines the power of black metal details and natural solid, untreated wood. This style, which symbolizes power in decoration as well as close to nature, is created especially with worn-out accessories.
In the decoration of the industrial bedroom, a bedroom set containing a cupboard with black glass and sliding doors should be preferred. The presence of black metal frames around the wooden case of the cabinet will support the decoration. Wooden design should be combined with black metal legs in nightstand models. The bed model in this set should be a fabric covered base type where anthracite gray is best exhibited.
The set, which comes out with the combination of all parts, reflects the combination of solid wood and black metal details, making a point at the industrial decoration on wooden parquets. This set fits perfectly with metal-framed chandeliers or rustic, tumbled light bulbs.
What Kind of Bedroom Should Those Who Can't Give Up on Classical Decoration?
When we say classic, quilted details come to mind with the harmony of leather and wood in decoration. While these details emphasize a classic style, it becomes inevitable to have a classic make-up table in the bedroom set. Especially stylish vanity tables combined with oval and romantic designed mirrors are used with elegant pouffes. This look reflects the elegant and timeless side of classical decoration throughout the room.
While applying your classic decoration theme to your bedroom, you can choose black or classic glass as well as sliding door cabinets. The leather headboard in the set with this type of closet emphasizes a classic and luxurious look. Bedside tables, on the other hand, are preferred with single drawers and minimal sizes to balance the weight of leather fabric coating. A romantic atmosphere is added to the classic style, especially with wooden leg designs and bedside tables high above the floor.
When using a bedroom set with a classic decoration style, 4-door options of the striking black mirrored wardrobe models can be preferred to create a separate atmosphere for the dressing area in the room.