What Products Are in a Good Dining Room Set?
A good dining room set should have a dining table and chairs that capture style with it, a stylish mirrored dining room console. When all these furniture elements come together, harmony is achieved in decoration and usage needs are met.
A dining room set should include a stylish table and chair set to set a pleasant tableware with family and friends, while also including an elegant dining set console to accommodate storage needs. This console is used in exterior design as a piece that adds strength to the decoration of the dining room by displaying modern, rustic, classic or industrial lines. It allows stylish accessories to be placed on it and to add a pleasant atmosphere to the dining room. It gives a more spacious look to the space with oval and trendy mirrors that are positioned right on the wall.
Which Products Should Be Included in a Modern Style Dining Room Set?
A dining room set that will transfer modern decoration to dining rooms should include fabric upholstered chairs and pieces of color suitable for modern decoration. Chairs designed with cotton fabric, especially in anthracite and light gray tones, and dining tables designed from white or gray wood should be combined.
The most important part that will accompany a set in this style is the dining room console type cabinets with wooden legs and doors high above the ground. The cabinets can be preferred from models with self-line patterns or stylish simple designs within the framework of modern decoration. It develops depending on whether the person wants to use a moving piece in modern decoration or wants to emphasize simplicity. On the console, especially the wide oval shaped and shiny silver metal framed notables reflect the fresh and bright atmosphere of modern decoration.
Which Parts Should Be in the Industrial and Scandinavian Style Dining Room Sets?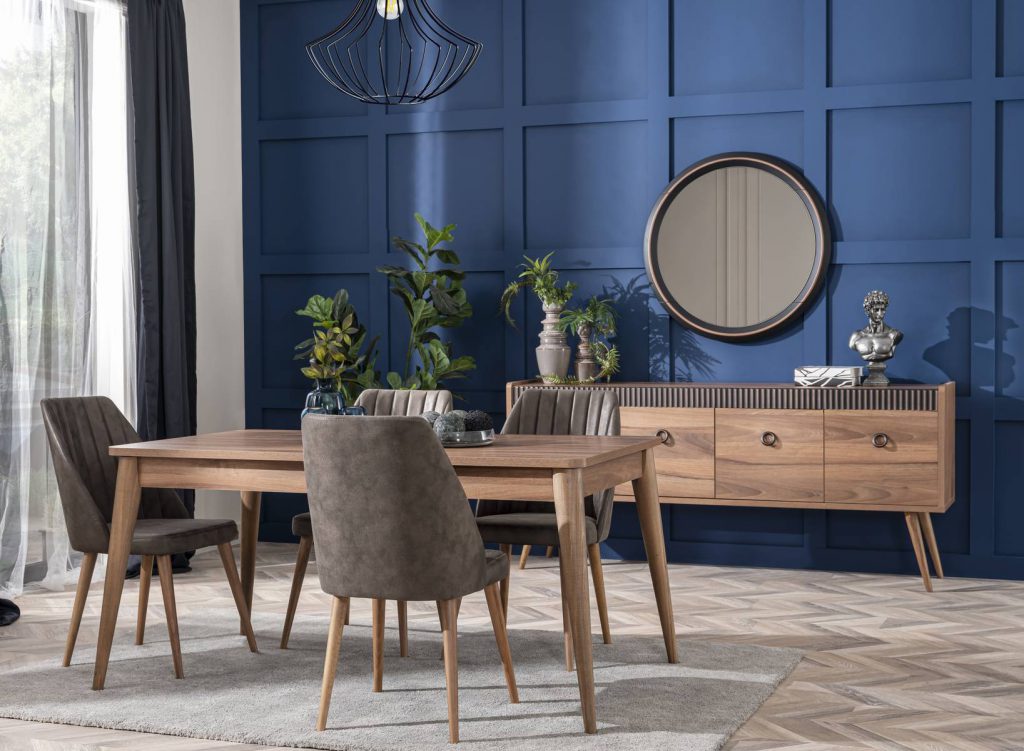 If the dining rooms are to be given the Scandinavian or industrial decoration atmosphere, which are among the most trendy decoration dynamics of recent times, it is preferred that the set pieces are wooden. A dining set of this style should have a wooden table and cotton fabric coverage chairs with wooden legs. In terms of color detail, it is preferred to use natural earth tones of solid wood.
A wooden dining room console should accompany the chairs and tables with a design inspired by nature. This console model may have handcrafted strip protrusions on the drawer sections or body. The presence of an oval mirror with a black or gray metal frame right above the console adds a distinctive atmosphere to the decoration.
Especially in the industrial style, these set elements create a striking appearance in dark blue, sand beige, white or anthracite wall-colored dining rooms and lounges. Because when the natural color of wood interacts with these tones, the strongest aspect of the Scandinavian style is revealed. It is now possible to include black metal details, wooden wall shelves and different painting options in the room.
Dining Room Set Parts Supporting Bright and Wide View
Light-colored dining room sets are preferred to apply a decoration theme that is refreshing and makes the most of daylight in dining rooms. In these set models, there must be a wooden table or a white table that reflects the light earth colors. Sets with white table preferences should have light gray, beige, cream chairs designed with leather, cotton or nubuck fabric. Wooden dining tables are chosen in light beige, which balances the color of the wood, and chairs with quilted details in the form of lines on the back.
The most important detail for a bright and spacious interior view is the positioning of the mirrored dining room consoles in front of the wall. If square or oval shaped wide mirrors and covered console models are included in the set, the room is shown deeper and more dimensionally thanks to the mirror
How should the dining room furniture pieces be for those who like sparkle?
A dining room set that appeals to those who like sparkles are models that reflect the unique bright appearance of velvet on the chairs. In this context, velvet covered wooden chairs should be included in the wooden dining room console and table set.
If sparkle is to be brought to the fore in modern decoration, a design that exhibits a cool gray tone should be included in the console, dining table and chairs. This color tone makes the dining room look more modern and spacious, and reflects the unique brightness of the velvet fabric in the best way. The console of such a set can be selected from plain, silver metal models with cover sections and handle details.
If the appropriate set is selected, using additional accessories in the dining rooms will be provided more easily. Stone and crystal chandeliers, straw detailed pendant chandeliers, gray plush carpets are easily used with modern sets with these pieces. Perfect harmony is achieved by combining all trend details. If preferred, gray, dark colored or dark blue background curtains are balanced in appearance.