Dining Room Set dining room set, consider how you want to feel in this place. Energetic and dynamic? Is it calm and calm? Is it wide and spacious? Research on colors revealed that colors have effects on human psychology. Some colors make people more appetizing, while others make it easier to focus and lay the groundwork for the work environment.
When you use the colors correctly in your spaces, you can easily create the effect you want. You have the opportunity to choose from a large number of colors and shades. You can set a color palette in advance so that you don't have to decide between the rich options. You can create your own color palettes from scratch or choose from ready-made color palettes. How many colors to use in the color palettes is entirely up to you. You can use 3 colors if you wish, 5 colors if you wish, or you can use shades of a single color.
Red to Increase Energy
The red dining room set increases the energy in the environment. It provides a striking effect where red color is used. They are known as the color of passion, love and power. It is a dominant and warm color. If you have a poorly lit bedroom, you can increase the light of the place by choosing red. If your bedroom is narrow, it is better to use red as an accessory, not in large areas, but in small areas. Using too much red adversely affects the character of the color. Where red is used, one's self-confidence increases. It is also known to have an effect that accelerates metabolism and increases blood flow. You will prefer the red dining room set, be careful when using the color. Don't overdo it. Break the pretentiousness of red a little by creating matte surfaces. Make sure you balance simplicity and assertiveness in the field.
Neutral Color: Gray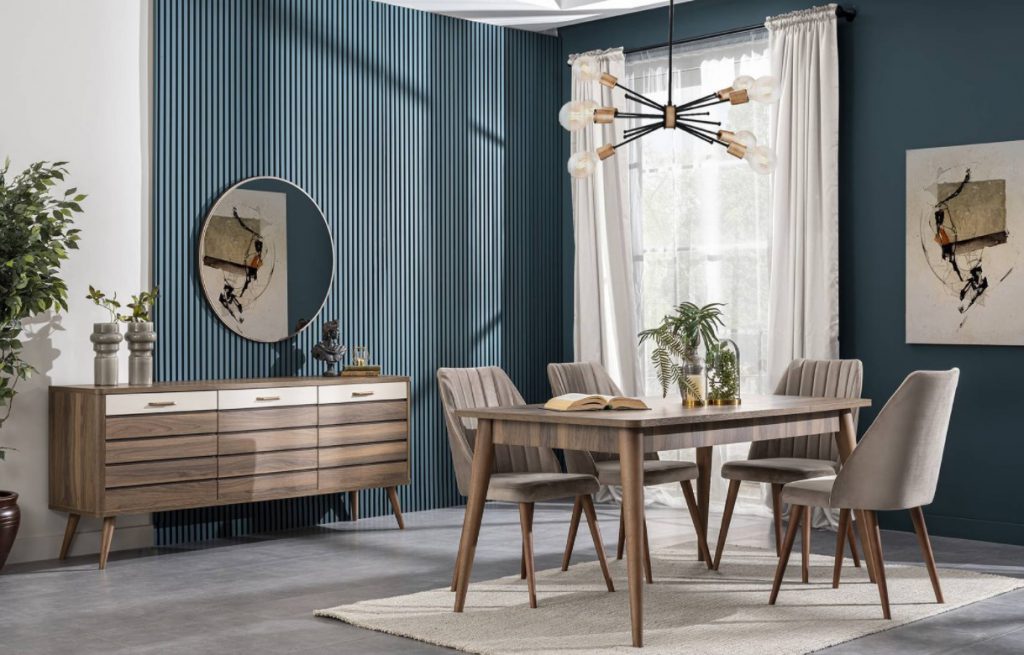 Gray is one of the most neutral colors you can choose for the dining room. It is an easy-to-use and comfortable color that is frequently used in gray interiors. Different shades of gray can be obtained by mixing different colors. Light gray tones mean calmness and coolness. It is suitable not only for the dining room but also for the whole house. A relaxing effect is created in the gray environment. Confusion and anxiety disappear. If you say my space should not be completely energy-free, you can use gray with vivid colors. There may be dark tones in some parts of the dining room and light tones in some areas.
Brown for a Natural and Comfortable Feel
The brown dining room set allows you to capture a natural and comfortable atmosphere. It consists of a combination of brown, blue, yellow and red colors. It contains many different shades. When used with the tones in it, a very beautiful color palette comes out. Blue and yellow in brown provide mental focus. It adds an energetic atmosphere with the red color. Dark tones reflect naturalness and reliability in spaces. Light shades are generally used in work rooms. If you do not want a very dominant color to be in the dining room, you can use brown with gray and beige colors. When used excessively, brown can have a dull effect, so be careful to use the color in a balanced way. When sweet tones are used in a balanced way, it creates a comfortable and warm environment.
Pink for a feminine dining room
Pink is one of the choices that people who want to design a feminine dining room can make. It is often preferred indoors for pink decoration. The pink color gives you peace of mind and allows you to get a calm feeling. Pink is obtained in the mixture of red and white color. Although it is a preferred color especially for the children's room, it can also be used for the dining room. Provides spiritual comfort. A warm and inviting atmosphere is created in the places where it is used. It also prevents stress and prevents the emergence of aggressive attitudes. It is beneficial to use very light tones in the dining room. A very light pink can be used as the main color and only one shade of dark pink can be used next to it. With pink accessories, the color can be preferred in different shades.
A Balancing Air in the Dining Room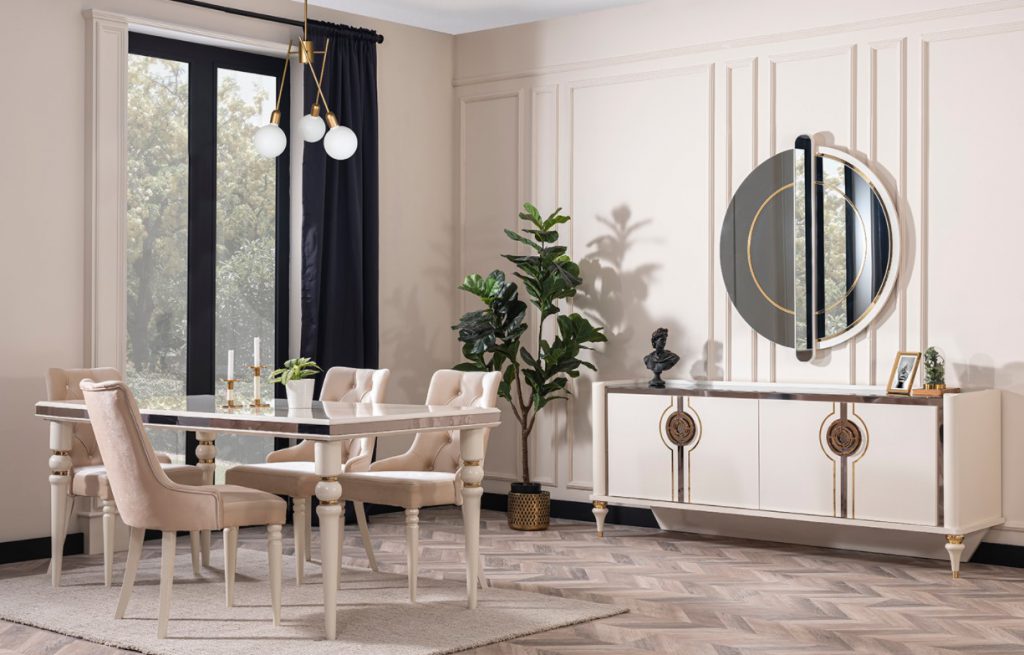 Purple is a cool color that stands out among the colors of the dining room. Since it is a calming and comfortable color, it is great for hosting your guests. It has been used for a long time as a symbol of power, luxury and passion. It is known to be used in terms such as mystery, magic, creativity and independence. The preference of bright tones causes the creation of an eye-catching effect. Dark tones can represent too much sadness and depression. Therefore, it is necessary to be careful when choosing a tone for purple. It would be beneficial not to prefer neither too light nor too dark tones. If you want to create a feminine atmosphere for your dining room, you can choose light purple tones. You can also use different colors in combination with purple. It helps you capture a vibrant and blue and red color that is already in purple. Before choosing the color, think about what kind of space you want to be by closing your eyes.
Dining Room Set options on our website.