Wood is the most used material in the field of furniture. With professional craftsmanship, it turns into a work of art. Over the years, it has not lost any of its popularity. On the contrary, it presents stunning new models every year. It brings a new breath to homes. It takes you to other places. When you think of furniture sets, the first thing that comes to mind is wood. Wooden furniture sets are among the most preferred sets.
Furniture selection is very important when decorating your home. Everything is shaped by furniture. You will be one step ahead with wooden furniture set. The Eva collection was designed to introduce you to the fascinating world of wood. With this collection, which combines the nobility of wood and mastery, you can bring a new breath to your home. Eva's; You will not be able to take your eyes off the bedroom set, dining room set and wall unit. You can add elegance to your home with the Eva collection.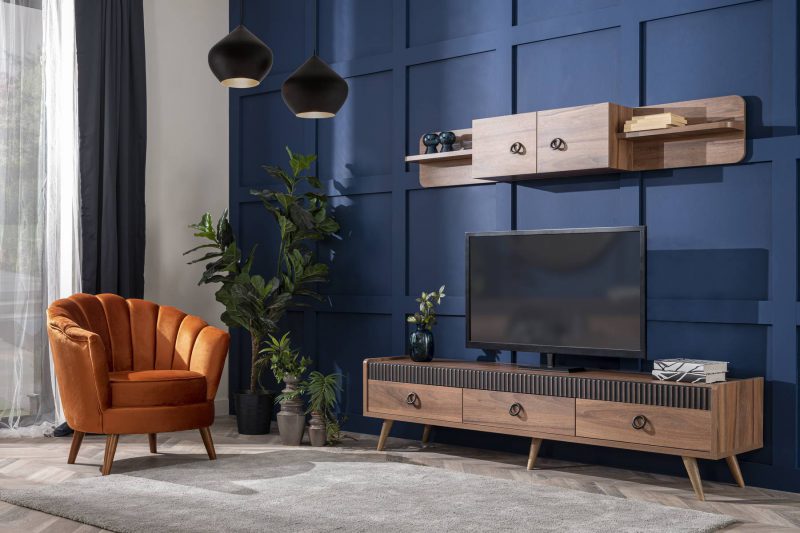 Timeless Aesthetics; Wooden Furniture!
When producing furniture sets, wood is mostly used in production. It is one of the trends that does not wear out for years. It attracts attention at every moment of the period and by everyone. Time is always the first choice, regardless of place. Indispensable wooden furniture adds naturalness to your home and creates a warm living space for you. It instantly changes the mood of your home.
Wood provides an advantage to people with its naturalness and durability. It also gains an aesthetic appearance when used in furniture. The nobility of wood, combined with craftsmanship, creates a unique option in furniture selection. Due to its durability and strength, it gives the chance to use it for years. Wood, which gained an artistic appearance while being a raw material, has always been a favorite product.
Why Should We Choose Wooden Furniture?
Wooden furniture sets are the most useful among modern furniture sets. Nobility in wood; who creates a work of art lexically with aesthetics. Very stylish, these sets offer a wide range of options.
The use of wood in furniture provides comfort. It is a combination of nature and calmness. Its most important feature is that it is stylish and noble as well as durable. available. The delicacy in its embroidery adds a great aesthetic to it.
The use of wood in furniture provides comfort. It is a combination of nature and calmness. Its most important feature is that it is stylish and noble as well as durable. available. The delicacy in its embroidery adds a great aesthetic to it.
Walnut Veneer in Bedroom Set
Among the furniture sets, the bedroom set, which has an important place, is the most expensive choice. Wood provides self-adaptation. The environment it is in gives warmth and calmness. Bedroom, having breakfast and listening. Wooden furniture used in the world today is the perfect fit for this.
Quality and elegance are always the first conditions in the design of Eva Dining Room Set. The elegance of walnut veneer is used for everything in the scope of the set. A wall color set suitable for the bedroom set is extremely important. Furniture set, wall color and parquet are triple. Influencing each other. It is compatible; you will enjoy a warm, pleasant life, a calm and stylish bed. A calm color, matching parquets and your walnut veneer set complete the walls. The nobility of walnut veneer is reflected in the spirit of your home.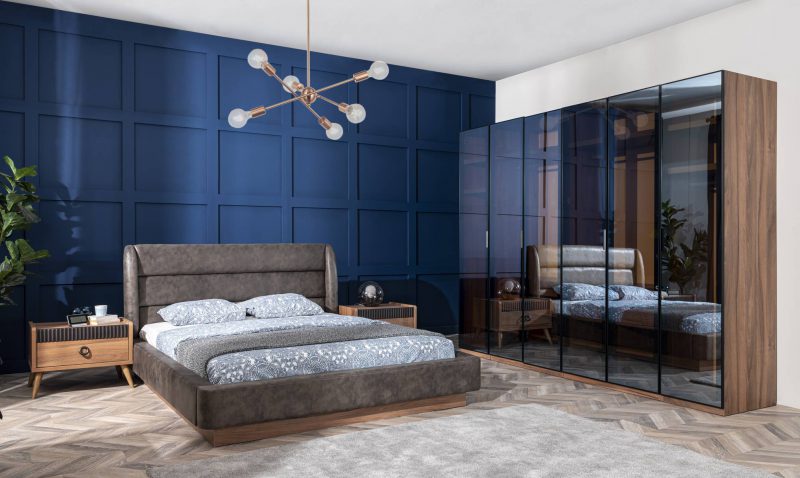 Dining Room Set That Suits Every Home
The dining room set has an important place among the furniture sets. This space gives us peace and joy. Small family gatherings or big tables are always set here. Times of time are spent here together. Every day, the place that welcomes us at his meal is food. Make the most of it, it needs to be well decorated for time to enjoy.
In the dining room set, its use is again an option of choice. wooden furniture; Constructed correctly, it adapts to the place, giving warmth and tranquility. You will have a cooking education that will reflect your taste, and the right color and model will catch your eye. Eva Dining Room Set also set out with this view. It will be made to suit his taste, his life. It brings new lightness to your meals with its functionality, different design and different solutions.
Wall Unit Where Modernity Comes to Life
Television plays a part in a large part of the shoot. program the special time of the day with television. The wall unit is also part of the television. Although it contributes to the house, it is preferred in decoration. The right wall unit makes your television viewing pleasure even more enjoyable. It is very important that the wall unit is compatible with other furniture sets.
The wall unit suitable for the house will be completed with its price. Thus, you can watch TV comfortably. A wooden touch on the wall unit adds a different atmosphere to your room. Eva Wall Unit, wood partition and reading to spice up your rooms with modernity. It offers the pleasure of watching world television and a place where you can put your belongings together. The two features are among the most preferred with their presentation together. The wall unit, which is a product with drawers and cabinets, will enliven your rooms.